The Professional Copywriters Network (ProCopywriters) holds a conference every year for copywriters old and new. It's always lovely to meet fellow writers, talk about new ideas and – as our host, David McGuire put it – be in a room full of people who don't think you're an expert in copyright law. Hurrah!

The day was packed with excellent speakers and breakout sessions. Richard Shotton, author of The Choice Factory, gave us a fascinating talk about behavioural science and how unconscious biases influence our decision-making. The highlight for me was this video, showing how we really can't resist the force of peer pressure.
Anyway, here's my top 10 takeaways from the CopyCon 2019:
1. Use review sites to research your customers
In an ideal world, we'd conduct interviews with customers before writing a single word of copy. We'd find out what their pain points are with our products, or what they love about our services. But in reality, that's not always possible. Clients have limited budgets, limited time and often limited resources.
So, what do you do when you need feedback about a brand or product? You go online! Head to Amazon and read customer reviews. They're packed with opinions that people might not tell you to your face, and you'll quickly start to see common phrases that you can use. It's genius, and just one of many great tips given to us by Joanna Weibe from Copyhackers.
2. Get your interviews transcribed
Another great hack from Joanna… Rather than interview your clients while frantically scribbling notes, hold your meeting on Zoom video. Ask them all kinds of things about why they started the business, etc. Then (and this is my takeaway!), rather than spend hours listening to audio, hitting pause and typing everything up, word for word – go somewhere like rev.com and get the whole conversation transcribed.
That way, you'll end up with a whole document that you can mine for gold. You're looking for key phrases and ideas that you can use in your writing. And, when people talk freely about the business they're passionate about, that's when the magic happens.
3. Listen to sales calls
If you're trying to pull together a customer journey, or a series of marketing messages, it can be tricky to know where to start (and, usually, the flow of information is controlled by what the business wants to sell first).
But, if you listen to calls, you can identify key areas that the customer considers important. Record the topics that people want to talk about, in the order that they come up. Stick everything in an excel spreadsheet, and once you've plotted all the calls, you might find that deciding which message to send customers first becomes much clearer. 
Remember, it's our job to give customers the information they need to buy our products or services. If you're getting a lot of enquiries about a particular sticking point, it's probably best to address it head on.
4. Turn weaknesses into strengths
OK, so we've all heard this one before, usually just before you go for a job interview. But, bear with me. The Pratfall Effect is the idea that imperfections make you (or your brand) more likeable. Believe it or not, if you spill your coffee at the end of an outstanding interview, it's more likely to boost your chances. Unless you run off swearing, presumably.
There's been a lot of research conducted into this theory, but how can we use it effectively in our marketing without damaging the brand? Richard Shotton gave us some great examples which, if you're trying to sell something that people have reservations about, can be really effective.
The golden rule is, don't hide your flaws (people will soon discover them, anyway). Work out what your core strengths are, and turn weaknesses on their heads to reinforce the strength.
5. The importance of ease
We're all busy. We all have good intentions to reply to an email, sign up for a service or renew a subscription. But life gets in the way sometimes. The easier you make it for customers to buy your products/sign up to your service, the better.
If you can take out sections of your journey to simplify the process, then go ahead. The experiment below by Bergman & Rogers shows just how much more effective a sign up is, when you remove the steps – version 1 is the standard sign up, version 2 asks people to reply to a text message with the word 'start' and the last version (with 97% take up) automatically signed customers up. They just had to text 'stop' if they didn't want it.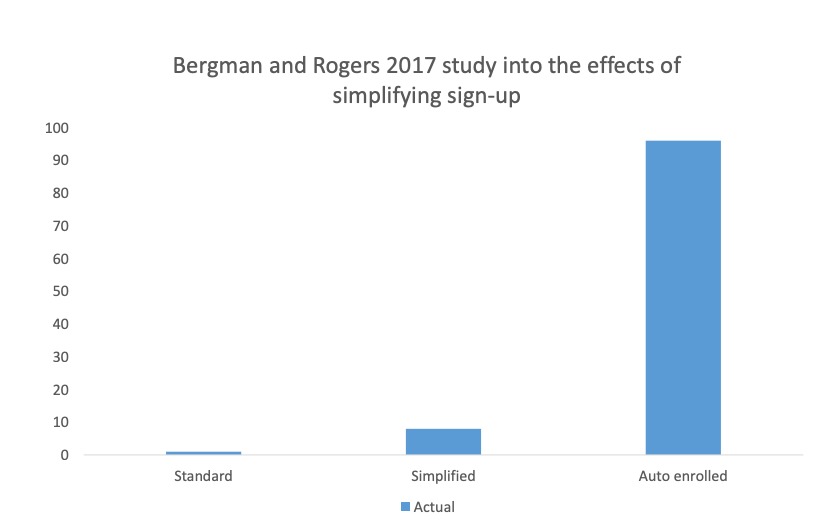 The only reservation I have with this idea, is to make sure your audience is fully aware that your service will automatically renew before it happens. Nobody wants a repeat of when U2 sent their new album to everyone on iTunes and we couldn't delete it!
6. Confirmation bias
If we hold a particular opinion, we more readily accept information that backs up what we think. We dismiss, or form counter-arguments, for things that we disagree with. But, what if we're distracted at the time?
It turns out, we can be manipulated when we're not paying attention. Listening to a convincing argument while watching a silent movie will make us MORE inclined to believe what's being said, because our brains are too busy looking at the screen to generate a counter argument.
So, by playing classical music over your ad, or dressing up your message with stunning graphics, you can distract people enough to not question your authority. Which is a bit disconcerting, but useful to know if you're in the business of changing opinions.
7. Keep a beginner's mind
UX copywriter Laura Parker reminded us not to forget what it's like to be a new user. All too often, we tend to slip into 'work speak'. We talk to colleagues about new functionality or adding new products to our range. We talk about them so much that words and phrases feel clear and familiar.
It's important to remember that our users have a different understanding of our products. They have different expectations of our apps. Try to keep information clear and relevant to them and don't expect them to make a mental leap to where you are.
Don't bombard users with all the information at once. Offer help that's relevant to the part of the journey they're in at the moment and guide them through the process. Use simple language and avoid jargon.
And, while we're at it, don't mess about with user's expectations, either. We expect menus in the top right-hand corner, we expect calls to action at the bottom, usually in the form of a button. If you defer too far from that, you'll confuse the user and may lose them.
8. Accessibility is key
Many of us suffer from some kind of user anxiety from time to time. We download an app, struggle to understand it and then delete it, sometimes within minutes of opening it.
But living with anxiety, autism or visual impairment can dramatically affect the way you process information. These ads from the Home Office are a handy reminder of a few of the things we should keep in mind when designing.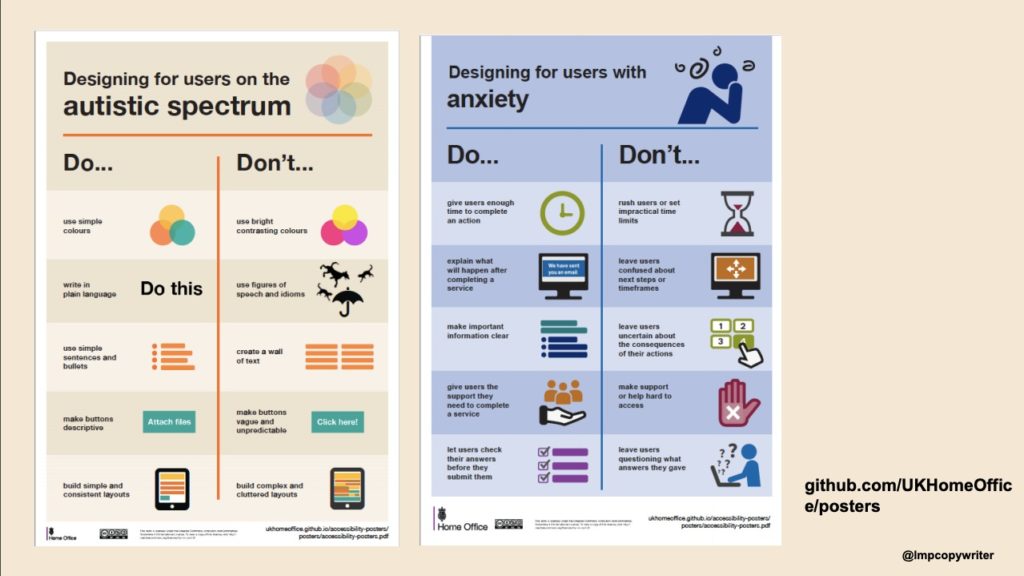 We should consider how we speak to users, too. It's common to say 'simply download this…' when, to some people, it might not be so simple. Likewise, saying 'just £9.99' isn't always appropriate. £9.99 may be quite a lot for someone to spend on your product.
The bottom line is, keep your user at the front of your mind, consider the challenges that they may have and help them to get the most from your app.
The Royal National Institute of Blind People (RNIB) are more than happy to check your website's accessibility for you.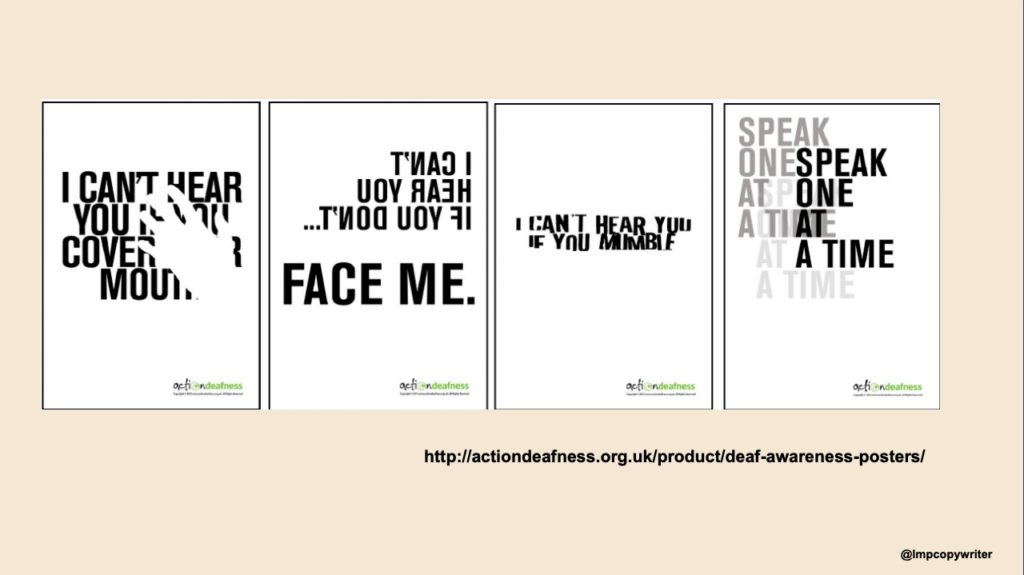 9. Take a walk on the wild side
Harry Kapur from Velocity Partners told us all about having 'skin in the game'. If you're trying to persuade your clients to take risks with their marketing, it's a lot more effective if you can actually walk the walk.
Successful content marketers should do the same for their own businesses as they recommend to others. Live and breathe products and systems until you know them inside out, and it'll give you the edge.
Obviously, it's not always practical to open a hair salon or a publish a magazine just to understand the struggles that your clients are going through, but the more you can immerse yourself in their world, the more powerful your copy will be.
Make it feel real and acknowledge that no product is perfect. Research for opinions and emotions, not just facts. And remember:
"The only way to make something interesting
is to be genuinely interested in it."
10. What's the future for voice search?
Kelvin Newman from Brighton SEO ran a great, practical session on search engine optimisation. There are lots of useful tools out there to help us with keyword research (or 'search queries', as they should be called. They're real people's questions, after all).
But the thing that really stood out to me was, OK we can optimise our websites to appear higher up in Google results pages, but when it comes to voice activated searches (on our smart speakers at home), there's only ever one answer. So, if we're not number one, then where does that leave us…? 
I asked Alexa, but she just said, 'sorry, I don't know that one'.
But there we have it, my highlights from a fantastic day at the Barbican. I hope to see many of you again next year! But in the meantime, I'll leave you with something Harry Kapur said that resonated with me. When someone says 'customers are just people', tell them:
"No. They're angry mums. They're stressed CEOs. They're people struggling with anxiety."
Keep your customers at the forefront of your mind and you can't go far wrong.